Contact lenses are ideal for those who need vision correction but want to avoid wearing eyeglasses full time or undertake LASIK surgery. Here are a few things that you should consider before purchasing them.
CONTACT LENS EXAMINATION
In the UK, a Contact Lens Fitting is legally required to assess your suitability for contact lenses, while having an Aftercare appointment once a year is really important to make sure that your eyes remain healthy. 
The Contact Lens Fitting appointment is composed of:
Surface of the eye health check and measurements. This helps us pick the most appropriate contact lens for you.
We choose a trial lens, assess the general fit of the contact lenses and test your vision on a chart.
The end result is the best contact lens with the best prescription.
Before you take your lenses away, we will show you how to insert and remove your lenses and give you important information on how to look after them.
Note: If you haven't had an eye exam with us before, you must bring your current prescription. 
The Contact Lens Aftercare appointment consists of:
Examination of the general fit of the contact lenses and vision.
The possible changes we could make to the prescription, to the specification of the contact lenses or even the type of contact lenses.
We assess the eye without the contact lenses to make sure everything is healthy.
Note: Before a contact lens aftercare appointment, you are expected to come in wearing contact lenses, for at least an hour before the appointment.
Types of Contact Lenses we offer
Not all contact lenses are the same. They are available in different forms, designed to meet different purposes. These forms can range from their shape, material or how often you change the contact lenses, whether it be daily, biweekly or monthly.
Different types of contact lenses also fit different needs, such as contact lenses for astigmatism, contact lenses for nearsightedness, farsightedness and more. You can also get cosmetic contact lenses to enhance, or even change, the colour of your eyes - with or without prescription.
Dailies
ACUVUE OASYS® 1-Day with HydraLuxe™Technology
The design of ACUVUE OASYS® 1-Day helps support a stable tear film and reduce feeling of dry and tired eyes to help you keep up with your daily life.
HydraLuxe™ Technology is a tear infused design defined as an enhanced network of tear-like molecules that mimic some of the components of tears and integrates with the film to help support its stability.
1-DAY ACUVUE® MOIST®
These contact lenses feature LACREON® Technology, which provides exceptional comfort from morning to night. It permanently embeds a moisture-rich wetting agent for an exceptional comfort that won't blink away.
100% of the wetting agent is still in the lens at the end of the day, when your eyes are tired and need it most. They also help to reduce UV exposure with Class 2 UV-blocking and are ideal for allergy sufferers.
1-DAY ACUVUE® MOIST® Brand for ASTIGMATISM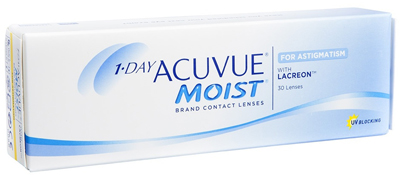 The most convenient way for patients with astigmatism to wear contacts. Plus, this contact lens combines Acuvue's innovative BLINK STABILIZED™ lens Design and their exclusive LACREON® Technology for excellent comfort.
BI-WEEKLIES
ACUVUE® OASYS with Transitions™ Light Intelligent Technology™
These revolutionary and first-of-its-kind contact lenses reduce the stressful impact that light can have on your eyes. These lenses combine a proven ACUVUE® OASYS (senofilcon A) material with Transitions™ Light Intelligent Technology™. The result is a lens that seamlessly adapts to changing light, providing all-day, more effortless sight with less squinting.
They balance the amount of indoor and outdoor light entering the eye, including filtering blue light and blocking harmful UV rays. They also offer superior optical precision with exceptional color contrast enhancement.
ACUVUE® OASYS® with HYDRACLEAR® PLUS
These contact lenses are the latest silicone hydrogel reusable lenses from ACUVUE®. They have an ultra-smooth surface that allows eyelids to glide easily over the lenses.
This helps keep your eyes comfortable and free from feeling tired throughout the day. They also contain the highest class of UV-blocking available in a contact lens.